Jaisalmer is a small town in the west of India's Rajasthan which lies on the edge of the Thar Desert. Most travellers who take the lengthy and arduous journey to Jaisalmer, intend to go on a camel safari to the desert for at least one day.
Jaisalmer is actually situated at the end of India – it's not possible to go farther west by road than to Jaisalmer.
Dry Rajasthani countryside changes in the Thar Desert just outside Jaisalmer, and it extends up to the border with Pakistan. The desert is not completely empty as you might imagine. It has got some people living in tiny villages comprising of only a few houses whose only mode of transport are camels.
Already tired of the noise and chaos of India, we decided to go on a trip to the desert as well. The journey by local bus to Jaisalmer was quite funny, people were friendly and wanted to have a conversation with us, even though they spoke just a few English words. In the bus, we met a local school teacher and several women who wondered why we were not wearing gold jewellery as they were. The question was really funny. The locals in some countries often ask us if we are friends, sisters or mother and daughter, they want to know our age and mainly – where our husbands are. But jewellery?
Before we managed to decide how to respond them, they answered their question themselves: "Oh, you don't spend money on jewellery, but on travelling the world. That's great!"  We said that it was exactly the right reason and then we all laughed.
Another man offered us a room in his guest house. The price was good and we were very tired after jumping in an old bus on bumpy roads,  and didn't want to spend the next two hours looking for accommodation, so we took it. 
We had heard about one tour agency led by a German lady who takes travellers to the desert.  So we decided to go to the agency to ask what kind of safari they offered. We were "welcomed"  by a local man and his son. There was no German lady around. Although both tried to be very enthusiastic and laughed a lot, their behaviour was quite fake. It would have been fine to go with them on the safari, but it would have been too planned and we would have been a part of a group of six to eight people.
We longed for a more authentic experience and relaxed atmosphere, and wanted to go into the desert alone to experience the real quietness of the desert, which wouldn't have been possible if we had joined another six travellers.
Later that day while roaming around we were approached by a local man dressed in traditional Rajasthani clothes and wearing a turban. He introduced himself as Kheta, the real desert man, and offered us a trip to the desert. He had no agency, only a temporary base in a guest house where he took us to show us reviews from travellers who had done the camel safari with him.
He told us that he would take us into the non-touristy dunes where agencies don't go. He said he offered a non-touristy camel safari off the beaten path. We loved that, but we were still quite skeptical and told him that we would think about it and would let him know later. Originally we had planned to go for a three days and two nights camel safari. But we were not sure if it would be safe for us to go with him and his brother into the desert for three days and two nights. Also, we were not sure whether it was safe to pay him in advance or not. 
It took us some time to decide whether we should go with him or not. He convinced us after he had invited us to visit his family. Kheta has seven children. When we saw the conditions in which his family lived, we decided to go on the camel safari with him and thus contribute him and his family.
In the end,  we went for a one-day trip only – and the whole day was fabulous!
So, how did the whole day in the desert go?
The next day we met Kheta at 8:30 am at the market, where he and a driver of a smaller 4by4 car were waiting for us. It took 45 minutes to get to Kheta's village in the desert. 
His brother brought camels and was waiting near the village for all of us to come. After a short stop we got up on the camels ( it was so high!) and spent the next hour on the camels going to the lunch place.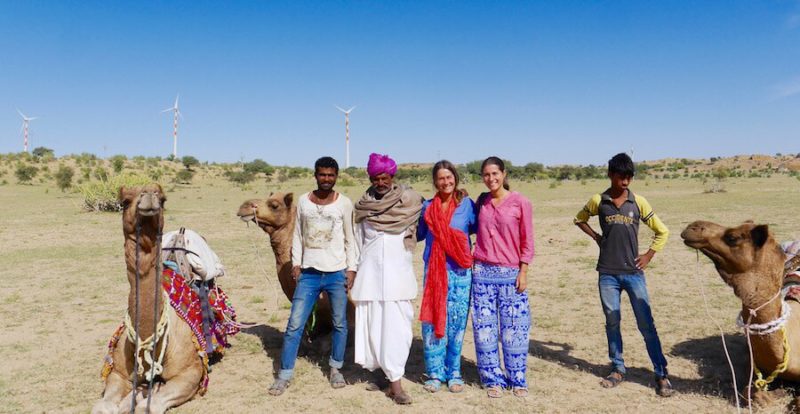 The desert was covered with low plants, bushes and cactuses. The farther we went, the quieter the desert was.  In a while we didn't hear anything, just the wind. We were walking deeper into the desert.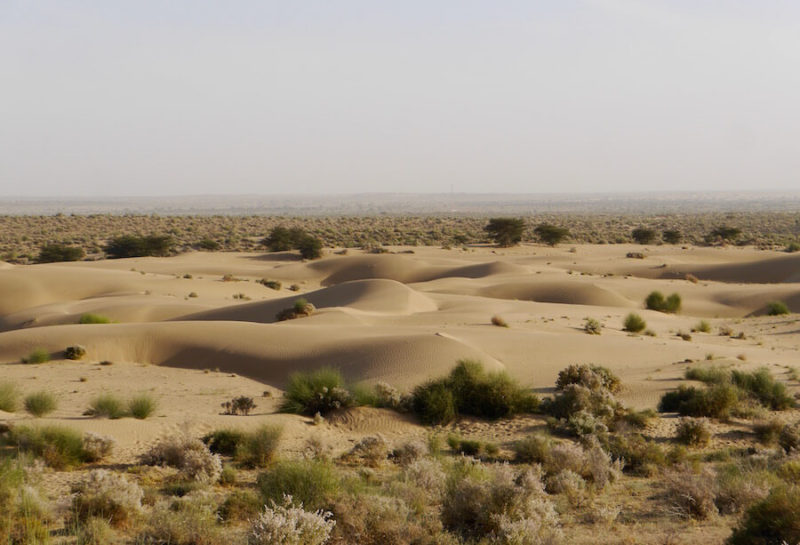 After an hour of riding the camels, we stopped for lunch. The previous day, Kheta bought everything for cooking. We told him we were vegetarians and we agreed that we would have aloo  gobi (potatoes and cauliflower curry), rice and roti for lunch.
While Kheta was making ready all things for cooking and prepared tea, we had a walk along the nearby dune. It was hot and the sand burnt our feet. We relaxed on the dune and enjoyed the serenity.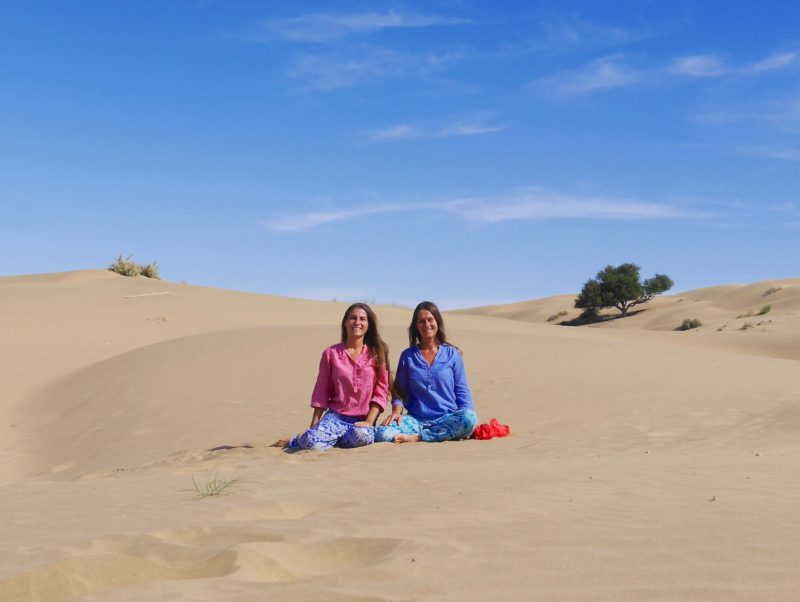 Suddenly we heard Kheta calling us to come back.  The next 30 minutes we were watching him making delicious Indian food. Even now, when we look at the photos and video, we would love to have this tasty meal again!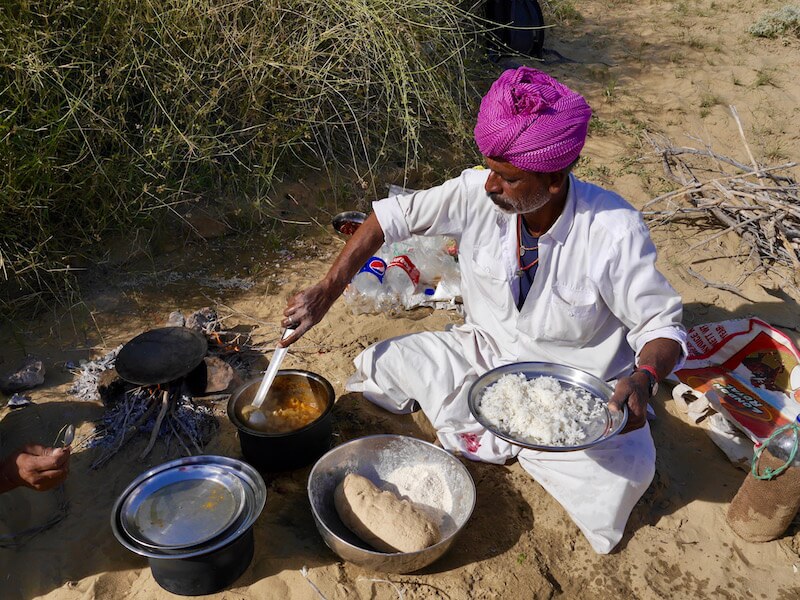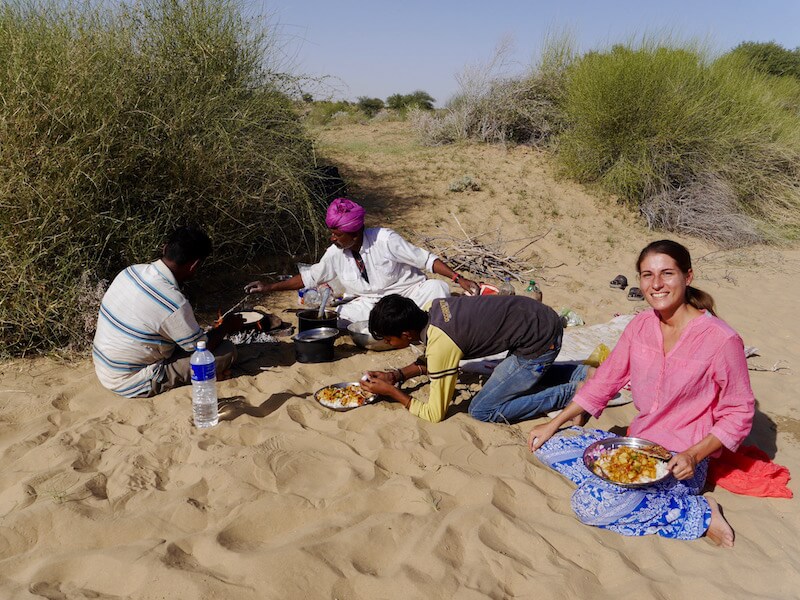 After lunch we headed farther to the desert. This time we went on camels for about 3 hours before arriving on the dune from which we watched the beautiful sunset.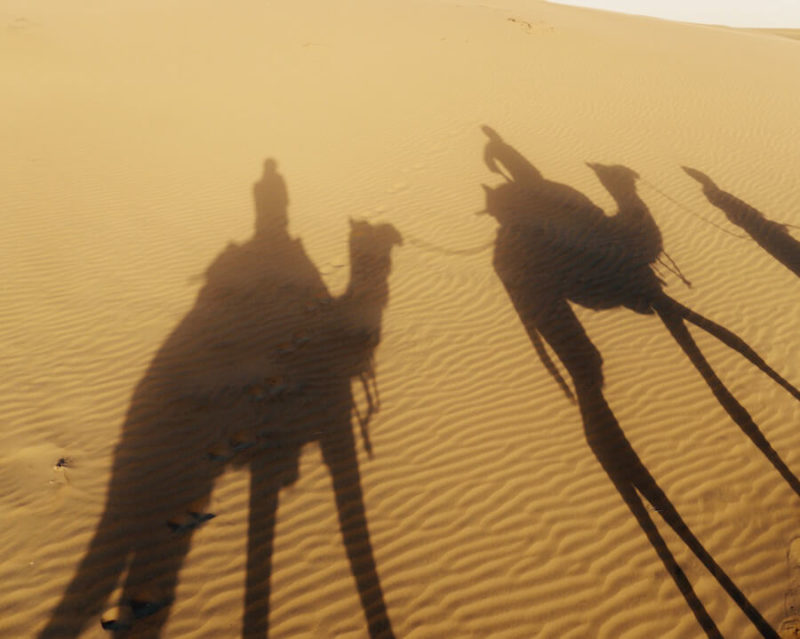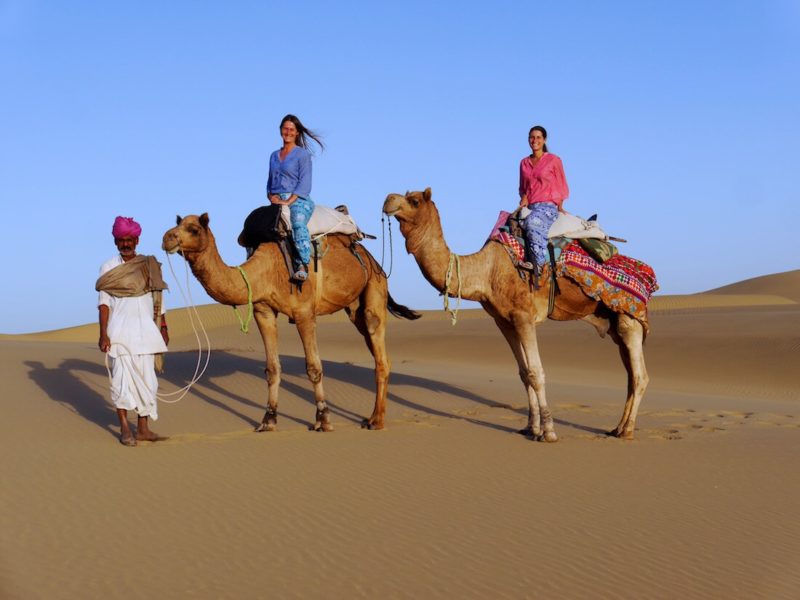 That day went by fast – too fast! It was amazing and it was gone so quickly.
That day was one of those days when you wish it would never end. Together with four days that we spent in fascinating Amritsar, it was the highlight of our journey around northern India.
Here's a photo of Kheta and his business card. If you go to Jaisalmer and want to take a camel safari trip with him  – which we highly recommend you to do – give him a call. Call him when you are in India, about a week in advance and tell him how many of you are coming and for how long you want to go to the desert. The shortest possible option is one day and the longest is 7 days. He will organize everything and will wait for you. The price is lower than if you went with an agency. Kheta is easy to talk to and you can agree with him on everything.
Expect to sleep just on a mat under the stars, no tents!
We want travellers to know about Kheta. Although he speaks English quite well (he has been taking foreigners to the desert for 20 years and learnt English from them),  he can neither read nor write, so he can't write an article about himself and his tours on the Internet.
His camels are healthy and in a very good condition, Kheta's brothers take good care of them.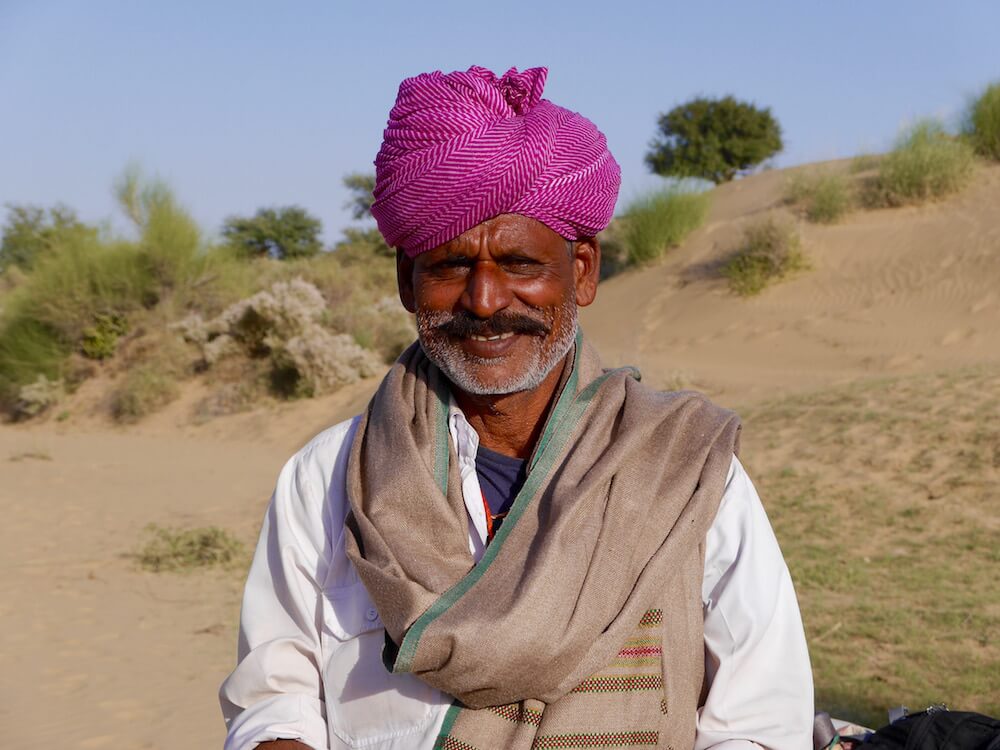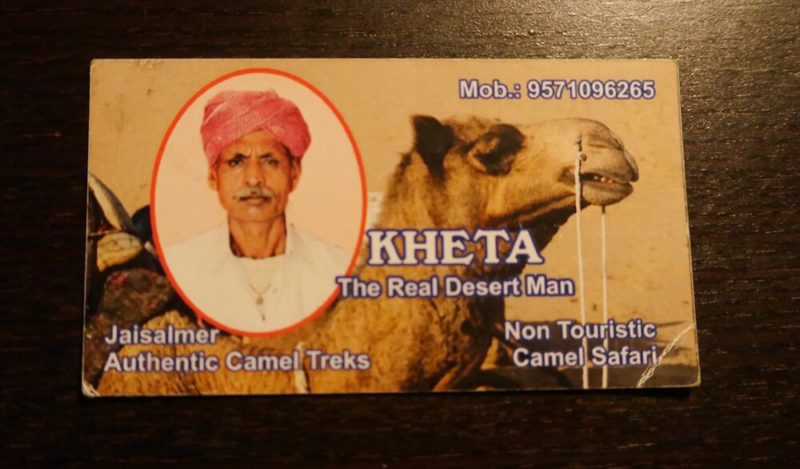 Do you like the desert? Have you done camel safari? Where was it? 
Previous
TWO UNFORGETTABLE WEEKS IN A TIBETAN MONASTERY IN NEPAL